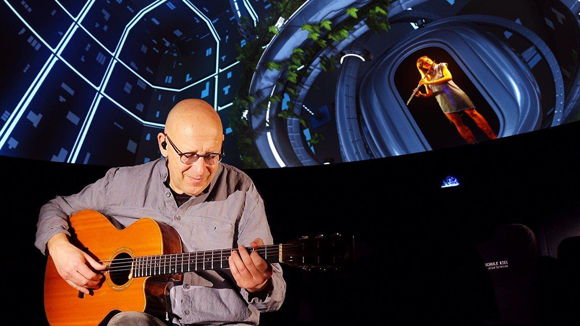 A live concert in virtual space – a production by the MediaDome Kiel and the musician and composer Jens Fischer.
"miRatio" means "astonishment" and is the follow-up project of the successful full-dome show "Metavista – eine Klang(t)raumreise" at the MediaDome Kiel.
Abstract rooms with extraordinary perspectives and optical illusions provide the backdrop for a concert where real and virtual worlds merge – created by the Bob Weber, a multimedia producer from Kiel.
"miRatio" uniquely utilises the 32-channel sound system of the Fraunhofer Institute for Digital Media Technology. In an impressive three-dimensional sound space, Jens Fischer plays together with other musicians who appear in the video on the copula of the MeidaDome Kiel:
Jens Fischer – guitar
Jens Schliecker (Piano meets Vibes) – piano
Nils Rohwer (Piano meets Vibes) – marimbaphone
Friedrich Paravicini – cello, bass, ondes Martentot
Pirkko Langer – cello
Lucas Kochbeck – drums
Sponsored by the Association of Foundations of the Förde-Sparkasse
For more information about the show or the artists click here.
Information about the current special programme is available here.
No online reservation possible! Tickets only with invoice and mail, or remaining tickets at the box office 30 minutes before performance.
Entrance: 18 euros (with discount 14 euros) – special event
Duration: 90 minutes
FILM CLASSIFICATION not disclosed. Recommended for ages 14 and older