Master of Science in Information Engineering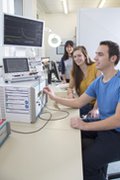 The Master of Science (M.Sc.) in Information Engineering is a 120 credit point course (ECTS - European Credit Transfer and Accumulation System) that can be completed in four semesters (or part-time equivalent). The course enables graduate students to develop key skills and research expertise in industry growth areas, as well as supporting their own strengths and interests.
The extensive international exchange program of Kiel University of Applied Sciences provides opportunities for master students to travel to different countries and immerse themselves in different cultures within the context of considering how globalisation and new industry growth areas can be used to support innovation, research and development (see below: Studies abroad).

Degree Awarded
Master of Science (M.Sc.)
Program Duration
(full-time) 2 years (4 semesters)
Study focus:
The Master of Science in Information Engineering programme is characterised by an interdisciplinary approach, offering the following study focuses:
- Information Technology and Systems Development

- Intelligent Systems
The Master's program is research, project and develepment oriented. Research projects are done in university or industry research centers/labs.
Admission
Enrolment to the master program Information Engineering is twice a year:
March for the summer semester and September for the winter semester.
Language of Instruction
English
Registration and Fees:
Tuition: No tuition will be charged
Fees: One-time registration fee: approximately 100.- Euro Enrolment fee of approximately EUR 120.- per semester
Special Services
All students accepted into the course will be offered the following services:
Assistance with immigration service and authorities.
Assistance with accomodation.
Counseling and tutoring.
German language courses (recommended/optional).
Location:
Kiel University of Applied Sciences is the largest institution of its kind in Schleswig-Holstein, Germany's most northern Federal State. It is located with its central faculties in the Baltic Sea city of Kiel, the state capital. Looking back on the history of its individual subject fields, the University of Applied Sciences can build on 125 years of tradition. Kiel has about 240,000 inhabitants.
The city, completely destroyed in World War II, today is dominated by modern businesses and office buildings. Its economic activity is mainly characterised by commerce, tourism, ship building and public service.
During the summer months, Kiel especially profits from tourism at the Baltic and North Sea. The "Kieler Woche", taking place in June, attracts thousands of visitors each year.