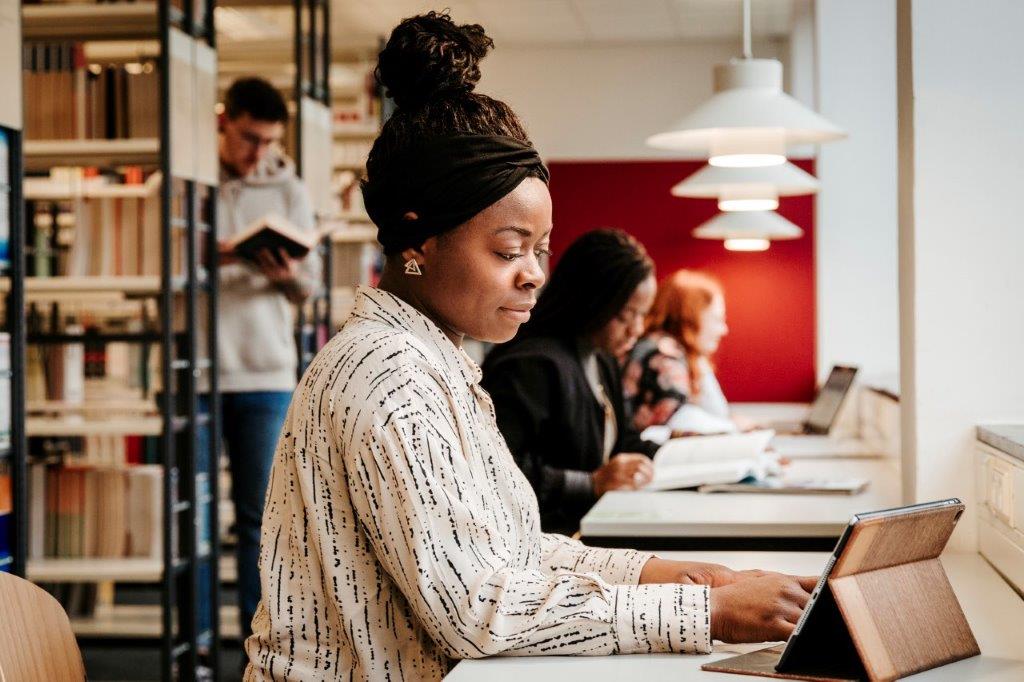 How do I search for literature? How do I obtain media from the closed stack? And what actually is a signature?
These and other questions are explained on this page.
This catalogue contains all books and journals of the libraries of the UAS Kiel (including licensed eBooks). Here you can order, reserve or extend media and look at your user account.
In addition to our online catalogue, we also offer the following additional catalogues for your literature research:
Books and online resources
This catalogue contains the collections of scientific libraries and archives in Kiel:
University Library Kiel (CAU)
State Library of Schleswig-Holstein
German Central Library for Economics Kiel / Hamburg
Library of the UAS Kiel
Library of the Muthesius University of Fine Arts and Design
GEOMAR Library of the Helmholtz Centre for Oceanology Kiel
Research Institute of the German Armed Forces for waterborne sound and geophysics
Kiel Municipal Archive
Library of the Pedagogical-Theological Institute of the Northern Church, Schleswig-Holstein
Here you can find collections of all scientific libraries and archives of the Common Library Network: included are deeds of ownerships of books, journals, articles, congress reports, microforms, electronical documents, data media, music, maps etc.
The proven holdings can be ordered via the online interlibrary loan:
You can arrange an interlibrary loan at the central library. You can find more information here.
The KVK is a meta-search engine to find more than a hundred million books, journals and other media in library and bookshop catalogues worldwide. The KVK itself does not provide a database. It is dependent on the target systems in the internet. It cannot offer more functionality than the individual target systems themselves.
Magazines and databases
This database offers access to scientific journals. The search can use journal titles, scientific fields or alphabetical order. Access is provided via a traffic light system: green for open sources, yellow for licensed sources and red for inaccessible sources.
Here you can search for separate scientific databases. The display is also designed like a traffic light system: green for open sources, yellow for licensed sources (access for university members) and red for inaccessible sources.
How to organise your literature!
Reference management programmes manage collected literature.
They enable the input of new references, the citation of references according to a scientific quoting style and the creation of bibliographies. Word processing programs often use a plugin to insert citations and references easily.
Here is a collection of common programs:
The SLUB Dresden published a comparison of reference management programs in 2016. You can find it here.
Questions on this?
Do not hesitate to contact: Diana Haderup - Kontakt
The journals of the current year can be found on the ground floor of the library and may not be borrowed.
Older and bound journals can be found in the closed stack and ordered for use via the online catalogue.
Licensed electronical resources
On campus, you have access to licensed databases, eBooks and electronical journals.
At home, you can use a VPN (Virtual Private Network). A guide to using a VPN is provided by the Campus IT here.
Contact persons
If you have questions, please contact Felix Fliedner (contact) or Ute Kaminski (contact).
Overview of E-Resources
The following contains a list of licensed e-resources ordered according to databases type (e-book, e-journal etc.).
The dates in brackets are license periods. Current licenses only have a starting date with a dash (2011 -).
All others are periods which have finished to which access is granted.
Some of the databases can be viewed from home via VPN.
Full-text databases, fact databases, e-books
Electronic Journals
Bibliographical Databases
Reference Works / Dictionaries
The Central Library of the Kiel University of Applied Sciences is an official display point for DIN standards. For copyright reasons, DIN standards are only available for inspection. All valid DIN standards as well as draft standards (including DIN ISO, DIN EN etc.) and VDI guidelines can be viewed online. Research in the Perinorm database is possible from a designated PC in the library. Standards for VDE are available for inspection on different computer.
DIN-Standards Online
Access is available via the Perinorm database. It is a campus licence without remote access / VPN. The documents can only be accessed via IP addresses within the campus network.
The UAS Kiel has subscribed to the following valid standards in electronic form
DIN standards
DIN messages
VDI guidelines
Terms of Use
Users are obliged to use the collection of standards exclusively in accordance with the provisions of the Copyright Act. Any use not covered by German copyright law, in particular the transfer of data in whole or in part - whether on an electronic data carrier, by remote data processing or as paper copies - as well as granting third parties access to the stored data and commercial use, is not permitted.
Authorised users can print or save to a USB drive data found in the course of their own research only for their own scientific use.
Authorised users within the meaning of the contract are the following:
Members of the UAS /Students
Part-Time Lecturers and Guest Lecturers of the UAS Kiel (for the length of their contract or stay)
other members of the UAS
registered library users
Access to Perinorm
The commercial use of the DIN standards and VDI guidelines is expressly prohibited. Changes to the original documents are also prohibited. Misuse leads, among other things, to the exclusion of use.
Please note that printouts and downloads from the VDE standards library are not possible - not even for university members!
E-Ressourcen of the faculties
Technical Information for Construction